Ant Proof Hummingbird Feeder
Ant Proof Hummingbird Feeder With An Ant Moat
If you are searching for ant proof hummingbird feeder, below you will find information the will tell you how to keep ants away from your feeders.
Keeping ants away from you hummingbird feeder  is achievable using a variety of rather simple procedures and even much easier when you start with the right hummingbird  feeder.
Why you need to ant proof hummingbird feeder
The same sugar solution that will attract hummingbirds may also be irresistible to ants, bees and wasps. Not only will they drink, they will additionally contaminate the nectar or even keep the hummingbirds from using the feeder. Keeping ants and other insects from your hummingbird feeder is crucial given that they will probably get inside of the feeder, where they are going to drown as well as ruin the nectar as their bodies decompose.
Ant moats for hummingbird feeders are the initial and still the best way to protect ones Hummingbird and Oriole feeder from ants and other crawling insect pests.
Tips on how to Ant Proof Hummingbird Feeder?
Just one answer for the  ongoing problem of how to Ant Proof Hummingbird Feeder would be to keep the ants from locating your Hummingbird feeder to begin with …..
Having a drip-less feeder is another way to assist in keeping the ants from tracing the location of your Hummingbird feeder. Bottle-type feeders usually tend to drip. As soon as air which is trapped above the nectar heats up, it expands and forces the nectar out through the feed ports. Basin or saucer type feeders are made so that they are less likely to drip.
Another answer to the problem regarding how do you Ant Proof Hummingbird Feeder, is to keep the ants clear of the Hummingbird nectar.
The most effective way of how to keep ants out of the hummingbird feeder will be to keep ants away from the nectar by employing some sort of "ant guard" or ant moats for hummingbird feeders. An ant guard is a barrier that's placed somewhere between the ants and the Hummingbird nectar. These types of ant guards for hummingbird feeders are built into a number of feeders in the form of an ant moat that have been filled up with water to keep the ants away from the nectar. However the moat ant guards for hummingbird feeders may also be purchase individually and added onto a feeder. The ant moats usually consist of a plastic material cup about three inches in diameter that fits firmly around the hanger wire above the feeder. Once the ant moat is filled with water the ants won't be able to get to the nectar.
Below is an inexpensive ant moat that will keep the ants away and ant proof hummingbird feeder.
Product Description
The first and still the best to protect your Hummingbird and Oriole feeder from ants and other crawling insects. Insert between hanger and feeder and fill with water, providing a barrier to crawling pests. Red color to attract hummingbirds.
If you would like a feeder with an ant moat built into the feeder, check out the feeder below. It also is loaded with other features that make it the best hummingbird feeder you can buy.
Here is the best way to keep bees from hummingbird feeder and to ant proof hummingbird feeder….. buy the feeder below: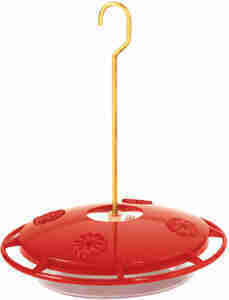 It's inexpensive and has several features that makes it well worth the price.
The Humzinger has patented Nectar guard tips which are flexible membranes attached to the feed ports that prohibit entry from flying insects, but allow Hummingbirds to feed as usual. The Humzinger also has a built in ant moat that will stop crawling insects from getting to the nectar. It also has raised flower ports that divert rain.
This mid-size nectar feeder has a 12 oz. capacity and can be hung or post mounted with hardware provided. It has four feeding ports for hummingbirds and is made of unbreakable polycarbonate.
Cleaning hummingbird feeder: It will come apart in the middle giving you full access to the inside and no hidden surfaces that will be hard to clean.
This would be my first choice in feeders. For ease of cleaning and protection from bees, wasps and ants, this feeder can't be beat.
Order the Humzinger Ultra today and solve all of your feeder problems at the same time.

Buy Now
I hope you enjoyed this ant proof hummingbird feeder article.
Random Posts:
Wearable Hummingbird Feeder, Intro May 08Excellent intro to the Wearable Hummingbird Feeder from heatstick dot com. Includes great shots of hummingbirds right in front of your eyes. Shows the process of idea to new invention. Patent pending.Duration : 0:6:18[youtube 49O1lMf1Yi0]
HummZinger FancyHummZinger Fancy, A HummZinger Hummingbird Feeder With Elegance Add the HummZinger Fancy hummingbird feeder to your backyard and attract hummingbirds in style. This is one of the best hummingbird feeders available, with all the elements that make it the best hummingbird feeder to own! The bright red
How do I keep ants out of hummingbird feeders?I have the cheap-o plastic kind of hummingbird feeders, the ants get inside no matter where I hang them, and then the hummingbirds do not drink from them. Should I get some of the glass kind? answer: Use an ant moat The first and still the best to protect your Hummingbird and Oriole feeder from ants